RN to Bachelor of Science Degree Program (RN to BSN)
FAst Track Your Nursing Career
Earn your BSN degree 100% online in as few as four semesters! Enroll in a CCNE accredited path ranked one of the best RN to BSN programs in Georgia. 
The Bachelor of Science in Nursing program for registered nurses (RN to BSN) is for individuals who are already licensed as registered nurses (RN). Courses are offered in a 100% online asynchronous format with program admission during the fall semester only. 
Exciting News…Beginning Fall 2021 the RN to BSN program will be joining in a collaborative agreement with other RN to BSN programs in Georgia. We will have the same great program; however, five of the courses will be 8-week terms, 100% online, low tuition of $199 per credit hour, and open educational resources (no textbooks). Please reach out to our nursing advisors if you have any questions about the updated plan of study, which includes the five e-major RN to BSN collaborative courses and the UWG RN to BSN courses. Thank you for selecting University of West Georgia's RN to BSN program!! 
This program comprises a diverse curriculum that focuses on the humanities and technology, emphasizing both the art and the science of nursing. The four-semester structure of the program also gives students the opportunity to complete any prerequisite core courses and still practice as a part-time or full-time RN.
The RN to BSN path at UWG prepares registered nurses for contemporary healthcare environments and professional advancement.
RN to Bachelor of Science Degree Program (RN to BSN)
Applicants seeking admission to the RN to BSN program should be self-directed and committed to engaging in caring nursing practices with individuals from diverse backgrounds. Nursing practice is holistic and recognizes the relationship of the mind, body and spirit. As critical thinkers, students will be expected to examine personal value systems and the value systems of others. Students seeking admission to this program should consider their personal goals and values in light of those expressed in the philosophy of the program. For detailed instructions on Application and Admission click here. Note: It would be beneficial if you would print off this document to help you keep track of your Application and Admission journey.
Faculty in the RN to BSN program view registered nurse students as colleagues and make every attempt to structure learning experiences to meet the needs of adult learners. Recognizing the associate degree or diploma in nursing as a foundation for further studies, clinical experiences are identified to complement previous experiences of the enrolled RN's. Applicants for admission should be aware of the difficulties that may be encountered in attempting to work full-time while completing RN to BSN nursing courses and core courses.
The RN to BSN program is fully accredited by the Commission on Collegiate Nursing Education, 655 K Street NW, Suite 750, Washington DC, 20001, Phone: (202) 887-8476, Fax: 202-887-8476.
University of West Georgia monitors regulations governing online education at the state and federal level. As of March 2016, UWG was approved to participate in the State Authorization Reciprocity Agreement (SARA), as part of the state of Georgia's membership and as of May 2017 the State of Georgia joined the Nurse Licensure Compact (eNLC). As a result, UWG may enroll residents of many, but not all, states outside of Georgia.
Prospective students who reside outside the State of Georgia should contact deregs@westga.edu or UWG Online at (678) 839-6248 , for more information and status updates on their state of residency, as some limitations may be lifted soon.
Prospective students who reside outside the state of Georgia who are considering a professional program (nursing, education, social work, counseling, allied health professions, veterinary medicine) should contact the appropriate Board in their state of residency prior to beginning a course of study. UWG cannot confirm whether the course or program meets requirements for professional licensure in the student's state.
If you plan to transfer to UWG, please click this link to read about admission requirements to the university. The School of Nursing requires a GPA 2.5 for admission to the RN to BSN program. There is also a link provided on the Registrars Office website that allows you to obtain Undergraduate Transfer Course Equivalents. Once you have applied to the University of West Georgia, and have been accepted, it can take up to four weeks for the Registrars Office to complete your individual transfer evaluation. If you have questions, please contact Undergraduate Admissions or the Registrar's Office. Please also keep in mind that every nursing program is different, and nursing programs at other institutions may require different prerequisite course work.
Please keep in mind that your application to the Tanner Health System School of Nursing is in addition to the application for the University of West Georgia.
How do I apply for the RN to BSN online program?

 

UWG undergraduate application and RN to BSN program application
What is the application deadline for the online program?

 

Fall admission only: May 1: first round; however, a second round of applications for July 1st may be considered.
What is the GPA requirement for admission?

 

2.5 GPA
What is the minimum requirement for admission? Minimum requirements doc
How do I find out what previous courses will transfer?

 

Undergraduate Transfer Course Equivalents website.

 

Once you have accessed the link, follow the step-by-step instructions on how to navigate the site:

use the drop down menu that asks "which state are you transferring"?
choose the state in the drop down menu, then click the right side tab that states "Get State".
use the drop down menu to find your school in the selected state.
choose the school in the drop down menu, then click the right side tab that states "Get School".
the screen will prompt you to select a

 

full report

 

or a

 

subject report. CHOOSE the

 

full report

 

from the drop down menu and click on the "I understand" tab to acknowledge the disclaimer message.
the page will then show a list of all classes/course numbers at the chosen school (left side of page) and what class/course number that the courses transfer to UWG (right side of the page). Also, please see the RN to BSN core curriculum plan of study areas.

Can I apply to the program before I sit for the NCLEX?

 

Yes, learners can apply to the program before sitting for the NCLEX-RN; however, they must provide proof of authorization to sit for the exam and be successful on the exam prior to the start of classes.
Do I need a Georgia State RN license to apply? To be admitted to the program you must hold an active GA RN license OR hold an active license in a state that is part of the Compact Licensure Agreement.
Can I meet with an advisor before I apply to UWG or to the RN to BSN program?

 

Learners wishing to meet with a nursing academic advisor must be admitted to UWG and have completed UWG online (separate from the RN to BSN program online orientation) orientation in order to be advised).

 

However, if you would like someone to review your unofficial transcripts and are 23 years of age or older, please contact:

 

Veterans and Military Programs Office.
How long is the online RN to BSN program?

 

four consecutive semesters for 30 credit hours
What is the cost?

 

low e-tuition cost per credit hour,

 

scholarships available, and be sure to check your healthcare agency's tuition assistance program
Is there an orientation to the online RN to BSN program?

 

Yes, there is an online self-paced RN to BSN program orientation that will be made available in July prior to starting the fall semester in August. However, learners are required to register for fall classes to be added to the orientation course. Please note that the online program orientation is not the same as the online university orientation that must be completed prior admission into the RN to BSN program.
Do I have to complete a clinical in the online RN to BSN program?

 

Yes, 90 hours are required the last semester (Capstone Leadership and Management Clinical course). Thirty of those clinical hours will be spent working on an evidence based quality improvement project.
How rigorous is the online RN to BSN program?

 

Learners can expect the online program to be just as rigorous and challenging as on-campus programs. The THSSON exemplifies a caring science curriculum, where faculty are committed to academic excellence in a caring student-centered environment.
Are there scholarships available for RN to BSN learners?

 

Nursing scholarship link.
What are the benefits of a BSN degree?

Enhances communication, leadership, and critical thinking skills
Proven to decrease patient/client mortality/morbidity rates
Increase in salary
Prepares the nurse for leadership positions
Prepares the nurse for graduate degree programs
Prepares the healthcare agency for Magnet status

For additional information contact the Undergraduate Associate Dean, Dr. Connie Barbour.
For admission information contact Academic Advisor Juli Larson.
Student Success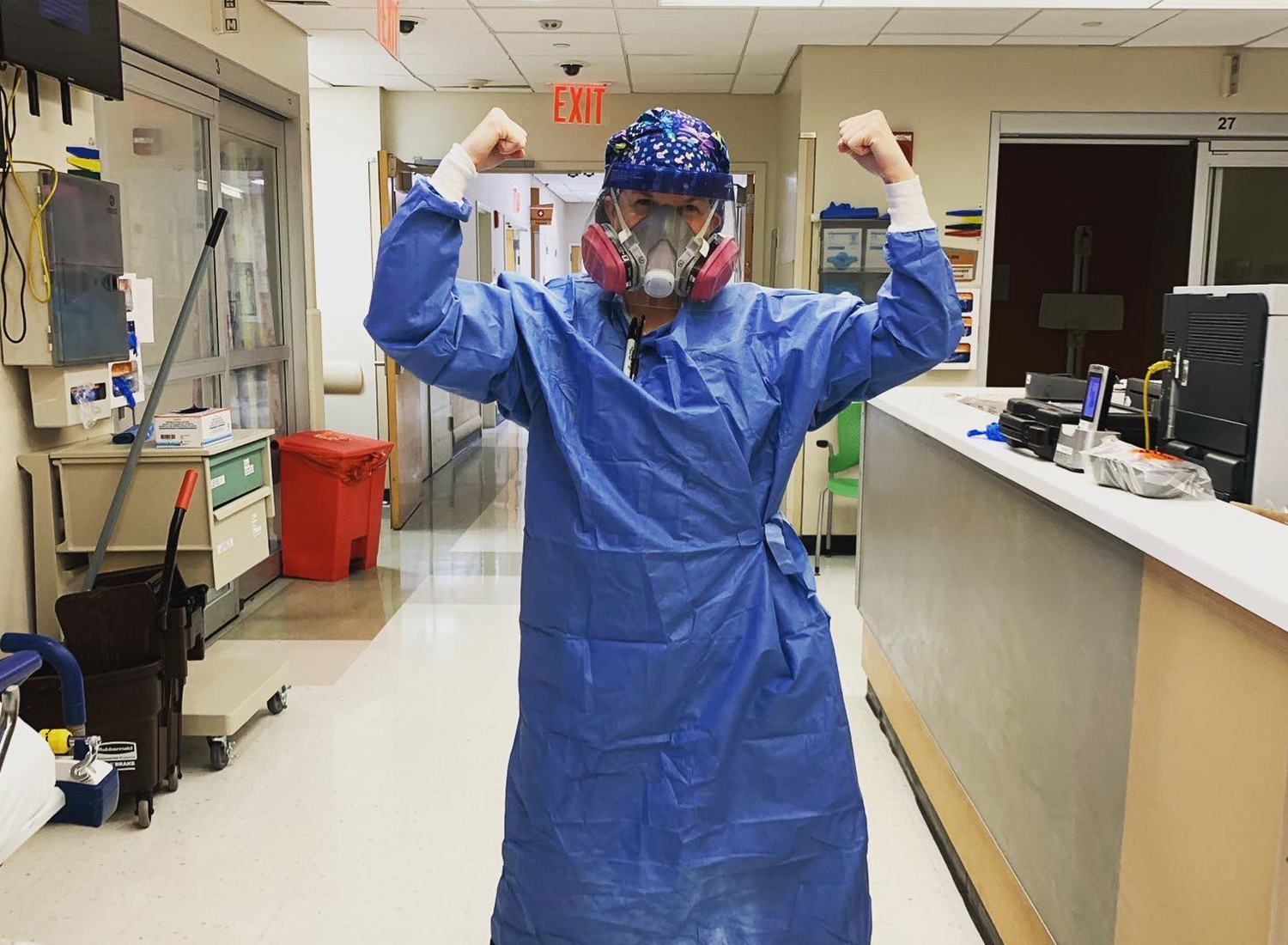 Student Success
"I can remember instructors constantly reminding me to think critically in all situations but especially during emergency situations," she said. "Working in NYC, I had to constantly keep a check on myself to stay in a critical thinking mindset. I wanted my emotions to enter, but I had to remain strong for the patients and for my team."
- Emilee Barron, RN to BSN Degree, 2017
Read More
Student Success
Contact Us
CONTACT
Tammy McClenny, EdD, MSN, RN - RN to BSN Program Director and Assistant Professor
PROGRAM LEADERSHIP
- Associate Dean and Assistant Professor
Tammy McClenny, EdD, MSN, RN - RN to BSN Program Director and Assistant Professor