A new home for the UWG Richards College of Business
Building Features
68,696 square feet
State-of-the-art learning environment
Flexible teaching spaces
Experiential and collaborative learning spaces
Technology-enhanced classrooms
Donate Today
Richards Hall will undoubtedly mean a great deal to our RCOB alumni, friends, and community members. We want to share with you the opportunity to help us reach our goal through creating a meaningful legacy for yourself or in honor of someone who has made an impact in your life, the Richards College of Business, or the University.
Naming Opportunities
For naming options, contact the Executive Director of Development for the University of West Georgia, Nichole Fannin.
678-839-5035
nfannin@westga.edu
In the News
State Approves Construction Funds for Richards Hall
The vision of Roy Richards Sr. Hall at the University of West Georgia is one step closer to becoming a reality. Georgia Gov. Brian Kemp recently signed the state's Fiscal Year 2020 budget, including the issuance of $14.9 million in bonds to fund the construction of the building to house the Richards College of Business at UWG.
Timeline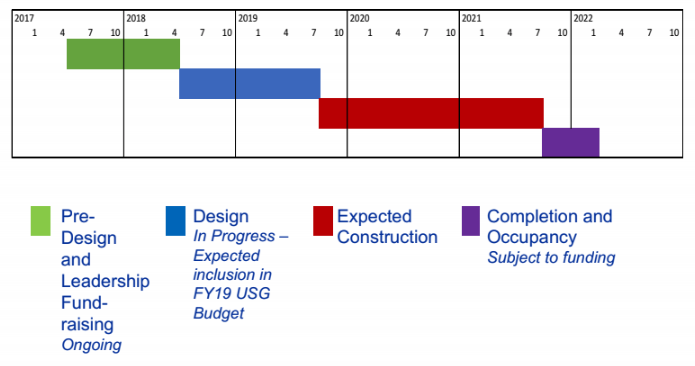 Construction Stages:
Pre-design and Leadership Fund-raising: Fundraising is ongoing for the many needs for our state-of-the-art facility.
Design: Funds for design (and construction) were included in the Fiscal Year 2019 budget by the University System of Georgia.
Construction: Groundbreaking for the building took place in fall of 2019. Construction is expected to be completed by Summer 2021.
Completion: Our faculty, staff and students are excited to move in to Roy Richards Sr. Hall in Fall 2021.