About the Richards College of Business Name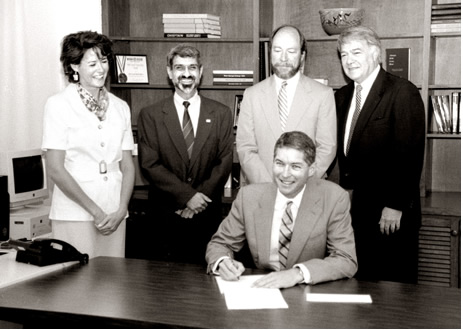 On July 9, 1997, the University announced the College of Business had received a $1.5 million endowment - the largest in the school's history - from the Richards Foundation to honor the late Roy Richards, Sr.  In recognition of this gift and the late Mr. Richards' life-long contributions to business and economic development in the region, the business college became known as the Richards College of Business.
Mr. Richards attended the Fourth District A & M School - which would later become the University of West Georgia - before going on to engineering school in 1931. He credited West Georgia 's first president, Dr. Irvine S. Ingram, for helping to shape the values and commitment that carried him throughout his career.
Mr. Richards was born in Carroll County in 1912 and founded Southwire Company in 1950. Since that time the Carrollton-based company has grown into one of the nation's largest power cable manufacturers. He died in 1985, but the company has continued to flourish, and the Richards family has remained dedicated to the Carrollton community. 
 
Mr. Richards' son, Roy Richards, Jr., said at the time, "This gift is one way of reinvesting in our hometown so that the next generation of West Georgia students can be entrepreneurs and capitalists themselves." He also noted that the university's alumni roster is like a "Who's Who" listing at Southwire, with so many who have earned MBA's and other academic degrees from UWG's College of Business. 
Founded by Roy Richards, Jr. in 1990, the Richards Foundation supports organizations in Carrollton and surrounding communities that are working to break the cycles that create economic disadvantage and social needs. The children of Roy Richards, Sr., continue the tradition of community involvement and caring begun long ago by Mr. and Mrs. Richards.