by Bryan Lindenberger
The University of West Georgia positively impacts students' lives daily. Yet, transformation of personal growth and achievement is just the beginning for many UWG alumni.
The most important part of their journey comes later, when they apply what they learned to help change the world around them.
Hosted by veteran sports reporter and television anchor Sam Crenshaw ('81), the 43rd annual UWG Alumni Awards Celebration – An Evening with the Stars – showcased such stories.
"Thank you, University of West Georgia," said Dr. Connie D. Stevenson ('94, '97, '98) in receiving her award for achievements since graduating from the College of Education. "Thank you for providing that foundation that has allowed me to impact countless lives."
Stevenson earned her bachelor's degree in psychology, a master's degree in special education with an emphasis on specific learning disabilities and a specialist degree in interrelated special education, all from UWG. A former special education teacher, she currently serves as the director of school choice and student assignment for the DeKalb County School District.
"Achievement is being elevated to a position that allows you to assist families," Stevenson said. "Achievement is being able to assist students and provide them with educational opportunities they may not otherwise have had."
Dr. Richard M. Ingle ('67), graduate of the College of Science and Mathematics, echoed such sentiments.
"More than a half century ago, it was time for me to commit to a university," Ingle said. "I decided at the last moment that I didn't want to be anywhere else in the world."
Dr. Ingle began his illustrious career back in 1966 at West Georgia as a student programmer. He worked as a Captain Computer Scientist for the U.S. Air Force and later became a professor at UWG from 1975-79 and again from 1981-85. He has also worked for such companies and institutions as NASA and Lockheed, led a branch of the Georgia Tech Research Institute for nearly two decades, and authored or co-authored more than 45 major technical reports and publications.
"The faculty of West Georgia took me under their wing with opportunities for experiential learning," Ingle said.
His undergraduate studies intertwined mathematics, physics, and the then-fledgling computer science program. He related that this interdisciplinary approach and opportunities for hands-on learning set the foundation for his entire career.
"I received an education I could not have at the finest Ivy League schools," Ingle said. "As an educator, I understand this award tonight is not about me. It is about you, the University of West Georgia."
Honorary Alumnus Dr. Bob Reeves likewise found UWG a formative part of his life. During his 27 years at UWG, he served as interim chair of the Health, Physical Education, and Recreation Department, in which he taught a wide variety of courses with particular interest in elementary physical education, first aid, athletic training and dance.
In retirement, Dr. Reeves has remained active in the community, teaching classes through the Department of Continuing Education at UWG, serving as adviser to the Circle K student organization on the UWG campus, and on the Coordinating Council of the UWG Association of Retired Faculty and Staff. He also received the J. Owen Moore Faculty Award.
Even with such a full and active life, Reeves noted the evening's honor was the high point of his career. As with the other honorees, it was the effect on student lives – here, in the most literal sense – that impacted him most deeply.
"Twice as swim coach, I administered CPR to students in near-death from drowning," Reeves said, relating how one of the students even attended graduation the next day. "When you bring someone back from the brink of death it's quite a feeling."
While revering the past, Evening with the Stars also showcased the new with a premiere honor, the Lillian Williams Champion of Diversity Award, earned by Jeremy D. Shain ('99, '10).
Graduating from UWG with both a bachelor's in psychology and a master's in counseling, Shain is a licensed professional counselor in Georgia, a certified school counselor and is currently employed as a school counselor at Bay Springs Middle School in Villa Rica. From his work in the school system to volunteer efforts in the community, Jeremy serves as an advocate for underrepresented and marginalized individuals.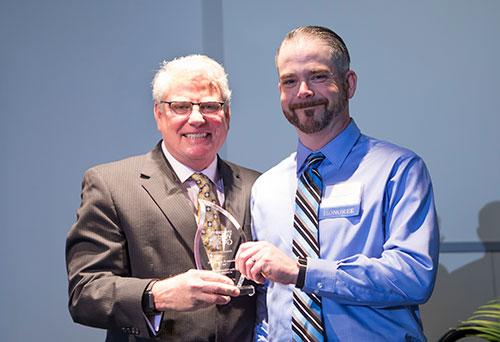 "As an alum, I recognize the role UWG played in making me the counselor that I am," Shain said.
He related a story of he and his husband adopting a son, and how he had confused his days and showed up a day late for his final exam. His professor was forgiving in allowing him to take his final late.
"That experience is what I bring with me to the students I serve," Shain concluded. "Everybody messes up sometimes, and everybody deserves a second chance."
Other stars honored during the event include:
Dr. Swarna Dutt and Dr. Sharmistha Basu-Dutt – J. Owen Moore Faculty Award
Josh Rachel ('08) – Outstanding Young Alumnus Award
Wendy Rosenbalm Bell ('72, '78) – H. Franklin Pritchett Jr. Service to Humanity Award
Debbie Dowis Reeves ('73, '92) – Thelma Harman Turner Alumni Loyalty Award
John C. Garner ('08, '13) – College of Arts and Humanities Achievement Award
Cary Ichter ('81) – College of Social Sciences Achievement Award
John P. Dudley ('73) – Richards College of Business Achievement Award
Betty Spier, MSN, RN, CHSE ('93, '95, '07) – Tanner Health System School of Nursing Achievement Award
This year's Alumni Weekend began Friday, April 5, with Alumni Take the Square with a stop at the Carrollton Courtyard by Marriott and a party on Adamson Square. Saturday included The Big Event where alumni partnered with current students for public service projects and culminated with the Alumni Awards Celebration in the evening.
Whether you are an alum or a current student, a member of the faculty or staff, or are otherwise involved with UWG and the community, events such as these serve to remind us that we are not separate. Each of us is closely tied through our successes and our sacrifices, our ambitions and our service.
The stars of the weekend, our alumni, know that spirit as Forever West.