Leaving a Legacy: UWG Alumna Honors Her Mother with Scholarship Endowment
Share this page
May 2, 2023
Reading time: 2 minutes, 1 second
Molly Pittman '19 was raised in a home where education was taken very seriously. And even though she didn't complete her college education until later in life, it made no difference to her mom, Sharon.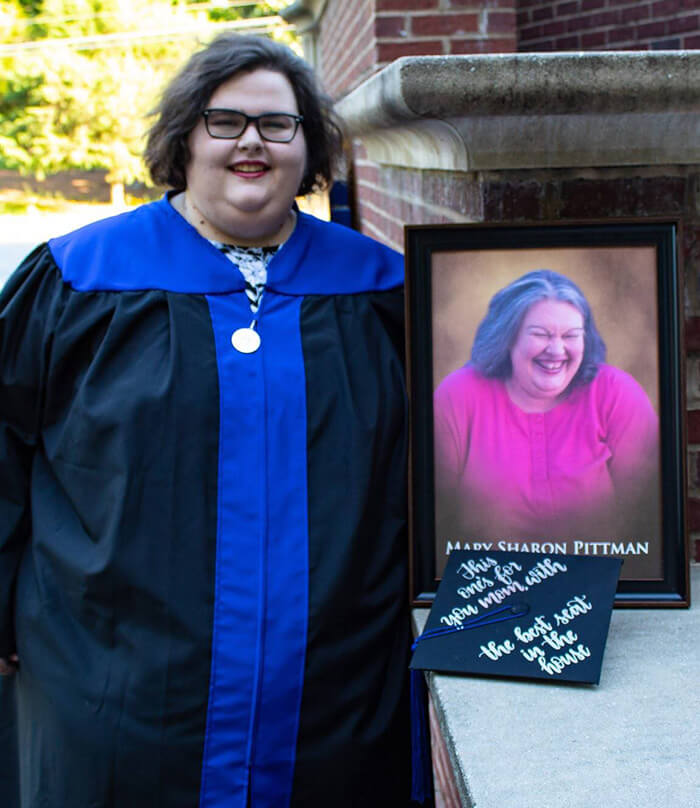 "She always told me it didn't matter how long it took – because life happens and circumstances may arise," Molly recalled. "Just as long as you keep striving toward your goal."
In the same spirit of support, Molly – a program support specialist for eCampus at the University of West Georgia – recently established the Mary Sharon Pittman Endowment to honor the memory of her mother, who passed away in 2018. The scholarship will assist nontraditional students at UWG like Molly who are determined to continue their education at UWG, where students find professional learning experiences that launch their careers before graduation.
"I think my mom would be proud of this scholarship and she would love to know she still has the opportunity to help meet other people's needs," said Molly. "She was always so thankful when others were able to support me through scholarships to continue meeting my goals, so I know she would be honored to do the same for others."
Sharon was raised in Columbus, Mississippi, by parents who were college professors. Education was always important to her, which led to her receiving an MBA from Mississippi State University. 
As a single mother, Sharon dedicated her life to raising Molly and supporting her every step of the way. Molly attended UWG as a nontraditional student, and her mother was always proud of her for pursuing her dreams and creating memorable experiences. 
"Mom was my superhero growing up," Molly recalled. "It was always just my mom and me, and she never missed anything, whether it was games, events or school activities. Mom was always there to support me." 
Molly graduated UWG with a bachelor's degree in interdisciplinary studies a few months after her mother unexpectedly passed, but she knows her mother was extremely proud of her and every other UWG student who perseveres when life takes them on a nontraditional path. 
"Being a student is always hard, but coming back or going part time makes it even harder," explained Molly. "I hope this endowment will help nontraditional students have one less roadblock in completing their degree."
For more information about how you can make an impact by supporting UWG through an endowment, scholarship or annual giving, please visit UWG's Give West page.