April 7, 2023
Reading time: 2 minutes, 44 seconds.
The CEO of a national corporation and former member of the Georgia House of Representatives served as the keynote speaker of the annual Women Empowering Women event at the University of West Georgia last week, encouraging attendees to define – and then live out – their purpose.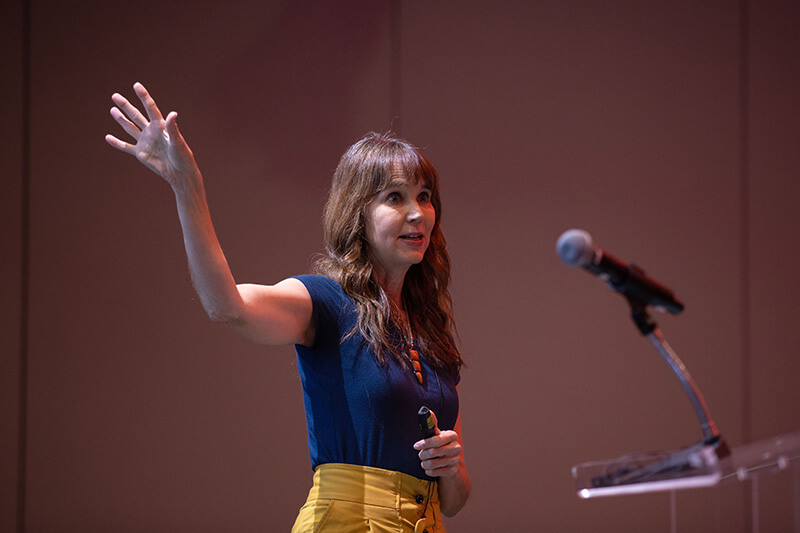 Stephanie Stuckey, CEO of Stuckey's Corporation, told the story of the family-owned business that operates convenience stores across the United States and specializes in candy and pecan logs that are now sold in 5,000 retail stores nationwide.
"Stuckey's has been known for generations as a highway oasis," explained Stuckey. "At our peak, we had over 300 convenience stores in 40 states. When I had the unexpected opportunity to buy the company in 2019, there were only 13 original stores standing."
Now, however, Stuckey's products –  including their candy, pecans and pecan log rolls – are sold in almost 5,000 retail stores nationwide.
The event was hosted by the Stone Center for Family Business, Entrepreneurship and Innovation in the Richards College of Business. Dr. Brendan Kelly, UWG's president, welcomed guests and highlighted the importance of entrepreneurship in the university community.
"As the son of entrepreneurs, I am thrilled to have Stephanie share her perspective on how she translated a career in public service into one of entrepreneurship in her family business," Kelly said. "Events like Women Empowering Women – and the insights that guest speakers like Stephanie provide for our students, faculty, staff and community – are motivating and inspiring, which are key experiences that people are eager to engage with as we curate a first-choice university."
The main theme of Stuckey's keynote speech was the idea of the entrepreneurial journey and how it often takes individuals to places in their careers they would never expect. Her journey has the quality of intertwining entrepreneurship and family business, as well. 
"The debt of the Stuckey's business was in the six figures when I was asked to buy the company," said the CEO. "I am often asked why I put my life savings into a failing brand. The answer is rather simple: I love my grandfather."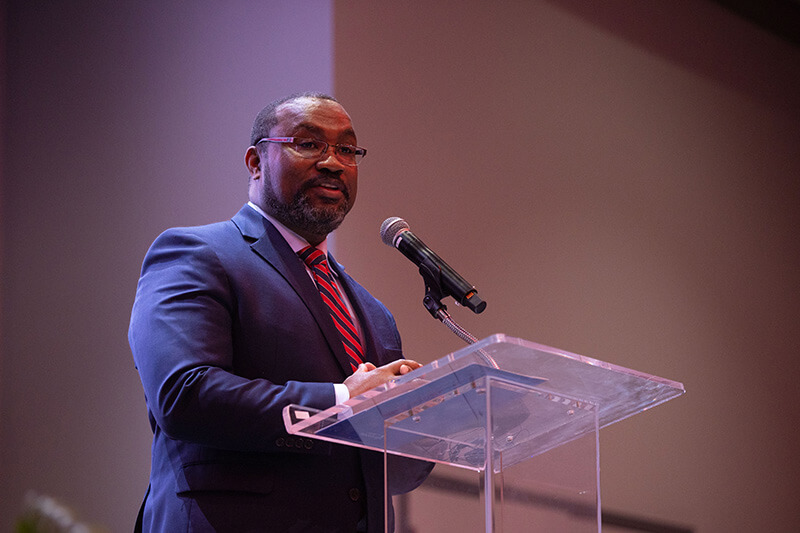 Stuckey emphasized that her background did not originate in business. She started her professional career as an attorney and legislator, serving in the Georgia House of Representatives from 1999-2013, being appointed director of sustainability for Atlanta and teaching as an adjunct law professor at the University of Georgia.
"For years, my entire career had been devoted to advocacy – primarily for the environment," recalled Stuckey. "I traded everything I had worked on for Stuckey's and the idea of continuing what my grandfather began in 1937." 
The businesswoman traveled cross-country to visit every remaining Stuckey's store. After realizing most stores gain profit from selling candy and pecans, Stephanie changed the family's business model.
"We turned our first profit after we stopped outsourcing our products and we began to rebrand ourselves," she said. "The strategy we developed is working."
Dr. Christopher Johnson, dean of the Richards College of Business, said having Stuckey as this year's speaker at Women Empowering Women represents the ideals and priorities of the Stone Center.
"Today, we celebrate the contributions of women who have been instrumental in shaping our society," he said. "This time together serves as a testament to the power of women and the impact they continue to make on their communities."
photography by Miranda Daniel