Nov. 15, 2022
Reading time: 2 minutes, 51 seconds
With an emphasis on enlivening entrepreneurial activity across the institution as part of its strategic plan, the University of West Georgia recently hosted the inaugural Entrepreneurship Week.
The week – sponsored by the Stone Center for Family Business, Entrepreneurship and Innovation and hosted by the Richards College of Business – boasted a series of events and engagements for students and community members, including an elevator pitch competition and a panel featuring alumni who have found success in founding and managing their own businesses.
"We are committed to launching students' careers upon graduation – if not before – and Entrepreneurship Week embodies precisely that goal," said Dr. Brendan B. Kelly, UWG's president. "Additionally, this week has provided an opportunity for us to breathe new life into entrepreneurship and a spirit of innovation across our institution to imagine a greater impact on the economy of our region and state."
The week culminated with a luncheon on the impact of family entrepreneurship with UWG alumna Christa Pitts '97 – co-CEO of The Lumistella Company, which brings the iconic brands The Elf on the Shelf, Elf Pets and Elf Mates to the world – serving as keynote speaker.
"It's one thing to have a great idea and another thing to do something with it," Pitts explained. "UWG is a fantastic place for students to learn those skills, and I'm hoping to help inspire others to seek their dreams. Everyone has ideas – up to 6,000 per day. It doesn't matter that you have one; it only matters if you put it down on paper and do something with it. Put it into action, use the resources that are available to you at places like UWG, and when the time comes, be strategic in your pitch."
A key piece of Entrepreneurship Week was the "Wolf Den" elevator pitch competition, modeled after the popular television show "Shark Tank," in which students proposed ideas for businesses to a team of UWG alumni entrepreneurs for cash prizes of up to $1,000.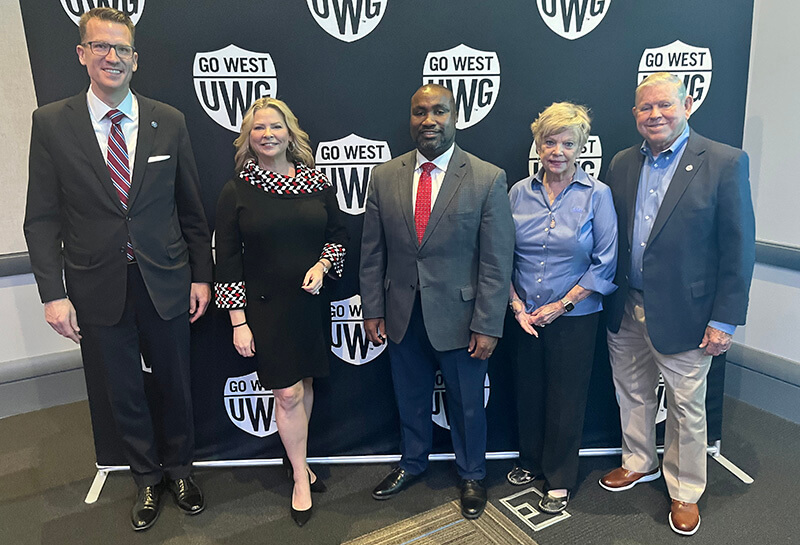 The entrepreneurs in the "Wolf Den" included David Johnson '96, partner and co-founder of Cane Bay Partners VI, a management consulting firm in the Virgin Islands. Johnson said he was impressed by the level of creativity and innovation demonstrated by the students.
"I was really pleased to be invited to be a judge for the first-ever Wolf Den Elevator Pitch Competition," he said. "They had some really great ideas for new businesses and were able to shake off their fears to stand up in front of a lot of people to give their pitch and take some tough questions from the judges. UWG is where my entrepreneurship journey began, so it's exciting to see a new generation of Wolves get this opportunity. I can't wait to see the way their ideas are going to change the world and expect next year's competition to be even bigger and better."
Kelly said he is grateful for the support of those who made the week of events a success: the students who participated, those who sponsored the engagements, and the members of faculty and staff who coordinated everything behind the scenes.
"We are thrilled with the work being done in the Richards College of Business under the leadership of Dean Christopher Johnson and with the support of community members like the Stone family and alumni like Christa and David," Kelly said. "Above all else, we are grateful to celebrate entrepreneurship as one of the driving forces of the University of West Georgia."