Fall & Spring Semester:
Monday-Thursday : 9:00 am - 7:00 pm
Friday : 9:00 am - 1:00 pm
SITS will be closed on the following days:
MLK Weekend
Saturday, January 19th - Monday, January 21st
Spring Break
Saturday, March 16th - Saturday, March 23rd

SITS will close at 4pm on Tuesday, May 9th and reopen on Friday, May 12th

Summer Semester:
Monday-Thursday : 10:00 am - 4:00 pm
Friday : 10:00 am - 1:00 pm
Where is SITS located?
Students can take their computers to Room 122 in Cobb Hall (entrance in the lobby) on the UWG campus on weekdays.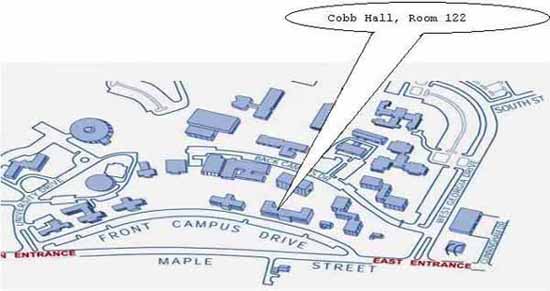 Do we have a parking space?
Yes!
Parking places are available on the front campus for students who have an appointment with SITS. Students will be able to park their cars in this place for fifteen minutes with a parking permit that they can obtain from SITS. Be sure to have your tag number ready so you can fill out the form.
Bus route no longer serves front campus - the bus now goes to back campus drive.
What do I need to bring to SITS?
You should bring your CPU (tower) or laptop with the charger to SITS, no need to take other parts such as keyboards, mice, monitors, printers, and/or cables.
You MUST bring your Student ID with you. If you do not have one, you can pick one up on the third floor of the UCC.
The Student assistant who is on duty will complete an initial assessment of your computer. The organization and arrangement will be based on the time that the computers will be taken to SITS. A "First in-First out (FIFO)" concept will be carried out during all resolutions.
Any replacement parts or software costs are within your responsibility. SITS can give recommendations on replacement parts or software of prospective vendors upon request. Once the diagnosis has been made, the system will be returned to its owner to acquire the replacement parts/software. Once the student provides the necessary parts, SITS will repair it at SITS first available time. Because of limited space and other limitations and procedures, SITS cannot dispose of or recycle malfunctioned parts and these will be returned to the student.