Southwire Business Leadership Program
Are you a rising Junior interested in a unique experience that helps you stand out from the crowd and prepares you to be a business leader of tomorrow? Sign up now for the Southwire Business Leadership Program (SBLP)! The SBLP is a strategic partnership with Southwire Company LLC that encourages, motivates, and mentors students to contribute toward meaningful business and community initiatives.
Details
Students apply and are selected by a panel of UWG and Southwire employees to participate in a semester-long program learning about Southwire culture and receiving training that focuses on leadership and professionalism skills. The following semester, students begin a two-semester internship that focuses on an individualized project and concludes fall of their senior year.

Benefits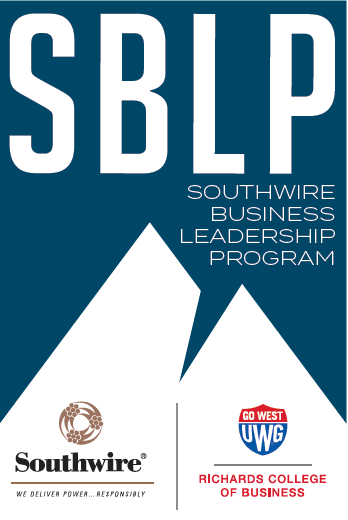 Students will gain real-world experience as they work to address a current business need or opportunity alongside their personal mentor in their chosen field. They will work on individualized projects with real-time workplace application and have opportunities to give back the community by volunteering with Project Gift. In addition to hands-on experience in a world-renowned corporation, students will also build leadership, team-building, and professional skills.
Requirements
Rising Junior  3.0 GPA
Business Major
In good standing with the University of West Georgia