The primary goal of PAAA is to make a positive impact on student success through building a network of professional staff and faculty who are involved in academic advisement.
Our charge is to provide these individuals with pertinent information, peer support, professional development, and a network of resources to enhance the academic advisement of students at UWG. The Professional Association of Academic Advisors (PAAA) will provide the campus community with a coherent academic advisement culture, advocacy and recognition of effective academic advisement practices and timely campus-wide communication concerning academic advisement.
Join PAAA
Want to join the Professional Association of Academic Advisors? PAAA is open to all UWG staff and faculty who play a role in advising students. Membership is free and monthly meetings provide PAAA members a space to discuss best practices in advising, changing and new policies and procedures, critical issues in academic advising, and much more!
To join, please email our Vice President of Records, Cindy McGehee at cmcgehe@westga.edu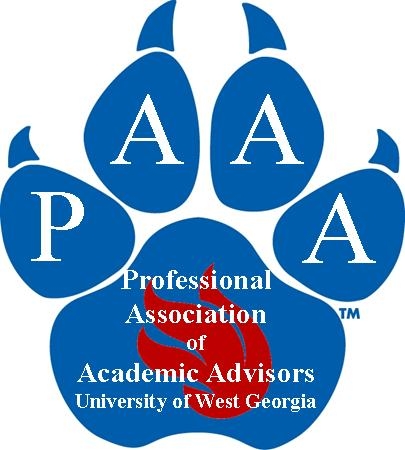 New Advisor Training
PAAA offers an online training module located in CourseDen (Desire2Learn).  This module is full of resources to assist with policies, procedures, WolfWatch, and other tools needed when advising. This is a great resource for new and current advisors.
Policies
Resources
Meet the PAAA VP's
Chelsea Duncan, President
Lauren Allen, President Elect 
Brittney Barron, Vice President of Communications
Jermale Jenkins, Vice President of Assessment and Recognition
Juli Larson, Vice President of Records
PAAA Advisors of the Year
Every Spring, PAAA presents awards to staff and faculty who demonstrate unparalleled hard work and passion for advising students.  Recognition is awarded in the following categories: New Advisor of the Year, Faculty Advisor of the Year, Staff Advisor of the Year, and Advisor Advocate of the Year. Advisors and advocates are nominated for these awards by colleagues and nominations are voted upon by a team of judges appointed by the PAAA Officers. The purpose of these awards is to recognize those advisors and advocates that enhance the UWG campus by promoting excellence, innovation, and effectiveness in academic advising and who go above and beyond for students to support continued growth and success.