by Colton Campbell
Autumn Burnette has learned a lot about volleyball as a University of West Georgia student-athlete. She's learned how to better attack the ball, how to focus on the task at hand and how to block her opponents' scoring opportunities.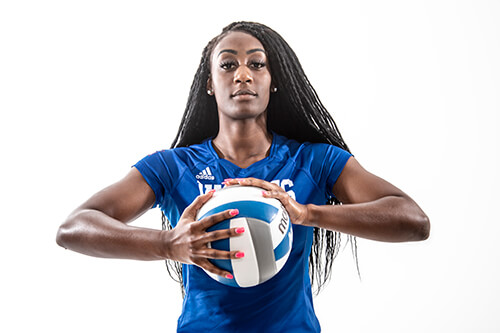 But all those techniques and best practices pale in comparison to what she's learned about herself.
"I've learned how to deal with adversity and be able to work through it in a positive way," said Burnette, who's in the middle of her last year as UWG's right-side hitter. "A lot of people didn't think I could make it this far because of injuries I've had throughout my volleyball career. That just shows, though, how much I've grown as an individual over the last few years."
Burnette – who sustained injuries to both her ACLs and Achilles tendons when she was in middle and high school – said she fully believes everything happens for a reason.
"I could ask myself if I'd never had those injuries, would I still be where I am today?" she said. "But you can't look back on those times with regret. I've learned to focus on all the positives that have come to my life because of this sport."
Burnette, an Atlanta native who graduated from Mount Vernon Presbyterian School, has been playing volleyball for a decade, but her first love was cheerleading. Later in life, she transitioned to basketball, a sport in which both her parents had coaching experience.
But her mother, who also coached volleyball in her spare time, told Burnette – who now stands 5 feet 10 inches tall – one day that she could be good at both sports.
"I alternated between volleyball and basketball for a few years, but because of my injuries, I had to transition more to volleyball," she said. "I still love to play basketball, but I don't play it seriously anymore. That's just the not the path I was supposed to take."
It's been a good path for her, though. Last season, Burnette played in 53 sets. On the offensive side, she had 39 kills (successful, legal, point-scoring plays) out of 127 total attacks, or attempts. On the defensive side, she accumulated 31 digs (defensive contacts resulting in a playable ball) and 20 blocks, or deflections of the ball.
"I love being able to play defensively, and I get to do that a good bit as the right-side hitter," she said. "There's a net between us, but volleyball is still a very physical sport. You may not be able to come in close contact with your opponent, but you are able to get in their heads and make a play that way. There's no difference to me if there's a net or not – I'm still competing with the other players on the other side of the net."
After she graduates next May with a degree in sport management and a minor in marketing, Burnette would like to work in the marketing sector of the sports industry. She'd love to develop concepts for advertising professional sports teams and work "behind the scenes" to make those concepts a reality.
Burnette said the biggest adjustment was changing the mindset from high school to college play.
"In high school, people knew me and what I could do," she said. "When I started at UWG, my teammates weren't sure how I played or what I could bring to the table. We were all used to being one of the best volleyball players on the team, but now everyone was on the same playing field. So I had to figure out what I could do to stand out when I was among the best."
That was a tough task; Burnette started at UWG as a walk-on student-athlete, so she didn't have the established relationships with her teammates that they shared before she started.
"So I sort of came in out of the blue, and I had to try to fit in with the rest of the team from the start," she said. "It wasn't hard, though, because we're such a close-knit group of players. Now, I will have those connections and relationships even after this season is over. That's bigger than the sport itself."
Photography by Julia Mothersole
Posted on