by Bryan Lindenberger
What is the role of civilians in the event of a crisis? What should you do – or not do – if that crisis involves an active shooter?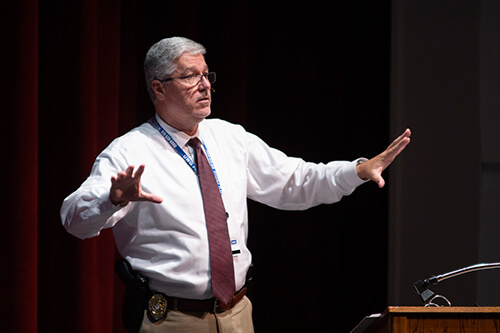 To better inform the community – and potentially save lives – the University of West Georgia Police Department (UPD) recently presented a civilian response course at the Townsend Center for the Performing Arts.
Titled "Active Attack Events, Stress Response, and A.D.D. / Run, Hide, Fight," the community forum was hosted by Dr. Ned Watson, interim chief of UPD, and included presentations from specialized UPD staff.
The A.D.D. model – "Avoid, Deny, Defend" – is designed as an awareness tool that will empower and instill confidence to civilians of all ages and abilities, helping them understand that what they do matters in an active shooter event.
"We want to provide individuals with information on how to react – how to avoid, deny, defend – when something happens on this campus or anywhere in the community," Watson said. "We are teaching basic survival skills."
Det. Jeffrey Flaugher of UPD's Criminal Investigations Division provided knowledge, history and anatomy regarding recent attacks around the nation. Using infamous examples, such as Sandy Hook, Virginia Tech and the Pulse nightclub in Orlando, he noted that there is no one established profile for an attacker.
With a typical response time of about three minutes, Flaugher explained that survival during that time depends greatly on civilian response.
Flaugher explained that one of the most important means of saving lives is knowing your surroundings. He strongly advised having a prepared script to follow in the case of an emergency at a school, workplace or public business.
"The first thing to do is breathe," Flaugher said. "Think about where you are and your immediate environment. Understand your surroundings and locate exit points. Take the emotion out of it, and get out."
While Flaugher presented primarily on avoidance (the "A" of A.D.D.), UPD Sgt. Nick Garner picked up with deny and defend.
Garner assured attendees that police will arrive on the scene as quickly as possible, but he reiterated the importance of the typical three-minute response time.
"In those three minutes," he said, "you have to be your own first responder."
"Deny" in the A.D.D. model means denial of entry, and this is where strategies such as barricading an entranceway come into play.
Using the multiple classrooms attacked during the Virginia Tech attack as an example, he showed how barricading a point of entrance can save lives by either making a room inaccessible or – at minimum – slowing down the intruder. When the police arrive, Garner implored civilians to show palms, not move and follow commands.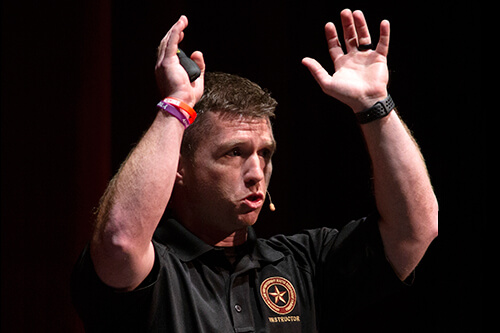 Defensive strategies – the final "D" of the A.D.D. model – include using whatever tools or objects available as a last resort to stop the attacker. Situational awareness comes into play, and defensive strategies may include standing to one side of an entranceway and physically confronting the attacker.
Such defensive strategies should only follow after avoidance and denial have failed, Garner explained. However, in such cases, it is imperative to use whatever means necessary to survive and help others survive.
Watson said he hopes event attendees left feeling informed and empowered.
"We frequently host presentations similar to this for smaller groups, but this is the first time we've done a presentation like this for the entire West Georgia community," Watson said. "Our goal is for every attendee to leave knowing they would feel prepared during an unthinkable situation like the ones we've addressed in this event."
Photography by Miranda Daniel
Posted on