by Colton Campbell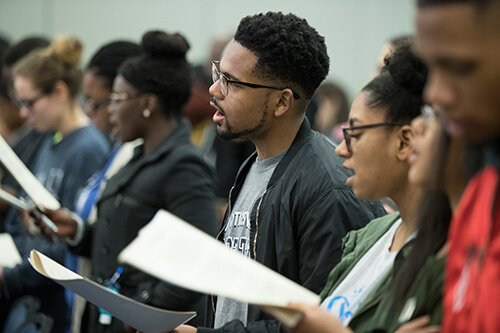 Sing a song full of the faith that the dark past has taught us;
Sing a song full of the hope that the present has brought us;
Facing the rising sun of our new day begun,
Let us march on till victory is won.

Voices singing these words filled a room on the campus of the University of West Georgia Wednesday evening during the university's 10th annual Dr. Martin Luther King Jr. Celebration and Legacy Program.
Led by UWG President Kyle Marrero and student Jazmyne Dedrick, students, faculty, staff, and members of the community sang along to this 1894 song, "Lift Every Voice and Sing," originally written by James Weldon Johnson to celebrate Abraham Lincoln's birthday.
The song's lyrics served as an apt preview for the program's content: commemorating a painful past while looking to a hopeful future.

The program's featured speaker, Hank Klibanoff, is a veteran journalist and Pulitzer Prize-winning author who hosts the "Buried Truths" podcast and serves as director of the Georgia Civil Rights Cold Cases Project at Emory University.

Klibanoff said his job is to explore the nation's dark past – particularly years before, during and after the modern civil rights era – and try to learn something from those years.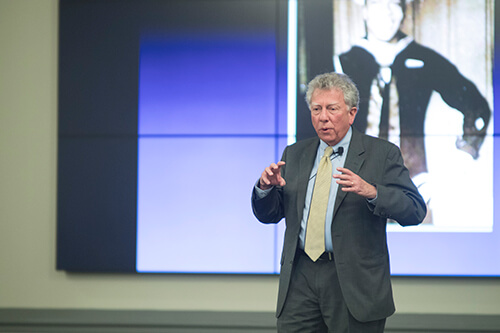 "One thing I know for sure: there was a lot of evil in the world at the time," Klibanoff said during his presentation. "We think we're in awful, divisive times now, but the magnitude of what's happening in our country now pales in comparison to what African-Americans went through in the 20th century."

The annual event – hosted by UWG's Center for Diversity and Inclusion, the Presidential Commission on Campus Inclusion, the Student Government Association, and the Black Student Alliance – celebrates the birthday of King and commemorates his achievements in the fight for equality.

UWG President Kyle Marrero opened the program saying King's birthday serves as a reminder to renew aspirations for liberty, unity and justice for all.

"We have to remember every day – not just on his birthday – his contribution to those ideals," Marrero said. "I'm reminded of a quote in which he said the function of education is to teach one to think intensively and to think critically. What better place for that to happen than right here at UWG?"

The event featured a conversation with Klibanoff about "Buried Truths," a podcast that tells a story about elections, voting rights, intimidation, violence and courage that is as relevant as it was 70 years ago.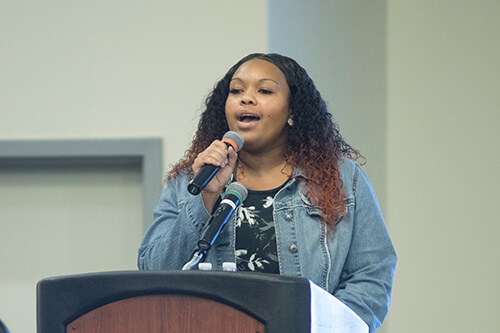 "My fear is that one day, our grandchildren's grandchildren will see the pictures of African-Americans using separate water fountains and think that was the extent of the terror they experienced," Klibanoff said. "My mission is to ensure no one ever thinks it was that simple."

Following his presentation, Klibanoff was given a token of appreciation for speaking at UWG: an art piece completed by UWG alumnus and artist Trey Zorns depicting Klibanoff and King.

Klibanoff co-authored "The Race Beat: The Press, the Civil Rights Struggle, and the Awakening of a Nation," for which he won the 2007 Pulitzer Prize for history. A native of Alabama, Klibanoff was a reporter and editor for more than 35 years at Mississippi newspapers, The Boston Globe, The Philadelphia Inquirer and the Atlanta Journal-Constitution before joining Emory University as a professor and director of the Georgia Civil Rights Cold Cases Project.

Joshua Lester, president of UWG's Student Government Association, said King's efforts to change the consciousness of people around the world cannot be understated.

"That paradigm shift is something to gather together and celebrate," Lester said. "Dr. King believed in something pretty simple: as human beings, we share a connection, and we should care for each other and want to treat each other fairly. That's all he wanted, and it's so powerful."
Also featured during the event were Corey Cusick, managing editor of the Times-Georgian, who offered a community member's perspective on King, and three UWG students: Brant Entrekin and Joseph Dean, who served as emcees for the event; and Camryn McGregor, who introduced the keynote speaker.

Closing his remarks, Marrero said he hopes UWG continues to keep King's dream alive.

"We are fortunate to have created an inclusive, diverse environment for our students, evidenced by our core values and the vibrant campus we call home," Marrero said. "My hope is that we continue to live Dr. King's ideals through our daily lives in the behavior and actions of our students, faculty and staff."

To listen to Klibanoff's podcast, "Buried Truths," visit www.wabe.org/shows/buried-truths.
Posted on