March 8 is International Women's Day!
Did you know that over 66 percent of the University of West Georgia's student body are women? In celebration of this day, we're highlighting women leaders of West Georgia. These ladies are UWG trailblazers.
Dr. Sharmistha Basu-Dutt, Chair and Professor of Chemistry
What is your background?
I received my B.S. in chemical engineering from Jadavpur University (Kolkata, India) and my Ph.D. in biochemical engineering from Wayne State University (Detroit).
Although I am an engineer by training, I realized very early in my professional career that I enjoyed interacting more with people than tinkering with machines. I enjoyed my time as a teaching assistant helping undergraduate students learn fundamentals of engineering and working with K-12 children to get them excited about STEM careers while in graduate school.
Post-graduation, I chose to step out of my comfort zone and pursue a career in academics over an industrial path. I was hired at the University of West Georgia (then West Georgia College) as a faculty member in the chemistry department and led a brand new engineering studies program in 1997.
For the past two decades of my teaching career, I have developed innovative teaching techniques, which include collaborative and cooperative learning, inquiry-based learning, integrative teaching, and activity-based interdisciplinary approaches to help my students find meaningful connections between abstract ideas in the sciences and practical applications in the engineering world.
What is your experience in the field?
I loved science and math since I was a child and was fortunate to have family, friends and teachers support my ambition of getting a doctoral degree in engineering. I always felt respected by my peers and never felt disadvantaged being a woman in a male-dominated profession. I had role models and mentors who helped me navigate every step the grueling years of graduate school. The best part of my job today is to mentor young students and help them fulfill their career dreams.
What is your advice to other women?
[My advice to women students is] keep pushing yourself and stepping out of your comfort zone - build up your confidence to share your passion with the world.
Franziska Bremm, Biology Senior
What is your background?
As an international, I was recruited by my coach as a student-athlete to play golf for the school almost four years ago. This gave me a wide range of experiences all the way from living in a different country to taking on leadership roles for the team. Practicing with people who share the same passion made the transition easier for me, and I made long-lasting friendships with my teammates.
What is your experience in the field?
Through my athletic successes, I gained the respect of not only of my coaches but also of the members of the men's golf team. This was special for me because being a female athlete can come with less appreciation for the hard work one is putting in practice and competitions. Here at West Georgia, I never had the impression that the female athletes are less important than their male counterparts, and I am very thankful for that.
What is your advice to other young women?
I just want to let them know I love that we are so diverse and different from each other. We should celebrate us more often.
Annemarie Eades, Vice President and Chief Information Officer of Information Technology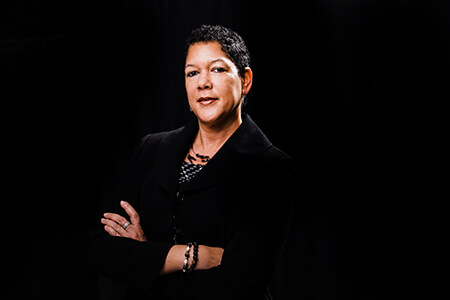 What is your background and experience in the field?
I am very proud of my accomplishments over the course of my career and have worked very hard to gain the respect and trust of my male counterparts. It has not always been easy and the playing field has not always been level. Recognition of the fact that I would need to work harder and in some cases be smarter has resulted in continued advancement and success.
What is your advice to other women?
I believe in leadership at all levels and you can accomplish anything you desire. For female students who wish to move into a leadership role, don't be afraid to speak up and speak out.
Deirdre Haywood-Rouse, Director of Diversity Education and Community Initiatives
What is your background?
My previous experience, before entering the world of higher education, was social services and nonprofit. I worked with populations who that have not been readily embraced by society (those living with HIV/AIDS, domestic violence; senior citizens, Alzheimer's clients, mental health, homeless, etc.). These populations were refreshingly candid and honest, enabling me to better learn and serve them. After the world of social services, I began working at UWG as a part-time instructor teaching gerontology in the sociology and criminology department. Later, I transitioned to the Center for Diversity and Inclusion.
I am intrigued discovering different individuals journey in life. Our experiences develop who we are. I sincerely desire the best for all involved in any situation and am an eternal optimist. I don't know any other way to be. I strive to exercise genuine integrity being cognizant of earnestly valuing people.
What is your experience in the field?
There are women in the field of diversity and inclusion education, but as with most fields, women are often held to an elusive standard of excellence. Gains have been made yet bias continues to exist giving all of us the opportunity to improve and grow.
What is your advice to other women?

It may sound elementary, but I encourage you to stand in your truth. Be and become who you were created to be. We all have the ability to be transformative, realizing we do this daily by our very existence. Empower each other. I think about the nuggets of wisdom that the elders in my village have said to me often: "Care about you! Someone is always watching you. What is on display? What are you showing? Treasure life. Be grateful, and make time today, not later, for family and true friends."
Kim Holder, Lecturer of Economics
What is your background and experience in the field?
As a minority female in a male-dominated field, in retrospect, I can see that it was a harder path in some ways. I almost always take the hard path on things (ex: I dropped out of college multiple times, got married young and returned to school with young children) so it didn't register to me that there were bigger issues in economics that revolved around being a woman in the discipline until more recent years.

I find that being a woman in my field, or really just being a woman in general, is fantastic. I believe women have very interesting perspectives and ways of seeing things. Men also have interesting perspectives and their own ways of seeing things. This diversity of viewpoints is what makes any field interesting.

What is your advice to other women?
You're good enough. In fact, you're most likely great. Once you believe that, you need a strategy. For example, maybe the thing you're great at isn't valued right now in the market. So how can you take what you're great at and mold it into something of value? Or how can help educate the market to value what you know you are contributing?
Focus on your goals and don't get sidetracked. A little sacrifice can pay off in the long run. Focus on where you want to be five years from now and make small changes now to build your own future.
Stop complaining and start doing. It's easy to focus on what we don't have or what we wish life would be like. It is hard to stop fussing about things and start making the changes you want to see in the world. If UWG doesn't have a program or a student organization you wish it had, do your research and find a way to make it happen. A barrier or deficit is just an opportunity that hasn't been discovered yet.
Jane-Frances Okoro, Nursing Senior
What is your background?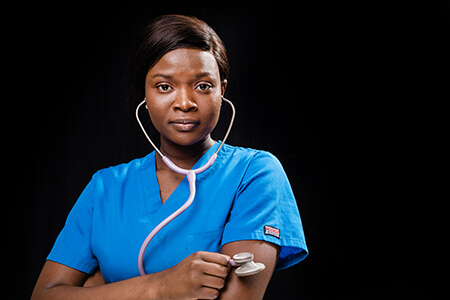 I am from Nigeria. I always knew that I wanted to become a nurse and, so I searched for the best nursing programs in Georgia. Many people spoke highly of the nursing program at UWG, and that is how I made my choice. I applied and started attending college in 2015.
I took up a few leadership roles as a senior in high school. I was a senior prefect and the president of the school's agriculture club. At UWG I am an active member of a few organizations on campus. Also, I currently work as a peer tutor on campus.
The female population majorly dominates the nursing field. I cannot say that I have faced any obstacles because I am a woman pursuing a nursing degree. There are other challenges such as spending most of your time on school work, stress and having to build up your confidence especially during the clinical sessions at the hospital. It took a while to build my confidence. The UWG nursing program has taught me so much, and I have become more confident in my skills.
What is your advice to other women?
Take care of yourself. Women should help to bring each other up. Perseverance, good communication and time management skills are vital for surviving college. Also, don't be afraid to make mistakes. Take one step at a time. Take things easy and trust God. You are a star. You can do it!
Photography by Xiaojuan Christian
Posted on