by Colton Campbell
A tangible representation of the partnership between the University of West Georgia and Tanner Health System sits on a hill on UWG's campus.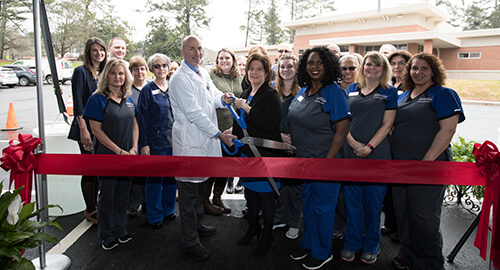 And last Thursday, a ribbon-cutting ceremony was held to celebrate the official grand opening of the new Student Health Center.

"We truly built this facility using our greatest strength – collaboration," said Dr. Xavier Whitaker, associate vice president for student life and the dean of students at UWG. "We've made it our No. 1 priority to foster a community of safety, health and wellness at our university, and this serves as a perfect example of our success in developing students both inside and outside the classroom."

The new center, which has been officially open since the beginning of the spring semester, was built over the course of less than a year from groundbreaking to completion. The joint venture with Tanner Health System will allow the university to better serve students with no increase in mandatory health fees.

The 14,000-square-foot, $4 million facility provides more than twice the usable space as UWG's former health services building. The new facility is located near the corner of Maple Street and the university's west entrance, across the parking lot from Tyus Hall.

During the ribbon-cutting ceremony, leaders from UWG, Tanner Health System and RA-LIN and Associates (the project's contractor) spoke on the importance of providing crucial services to students through the alliance between the various partners.

"This was a new idea, to build a new facility that will serve students without raising fees," UWG President Kyle Marrero said. "We didn't want to do this in the traditional way, and given the West Georgia community's commitment to partnerships, we knew we had incredible partners in Tanner Health System and RA-LIN who could help us marry the needs of our students with the cost-effective, efficient construction of a brand-new facility."

The former facility was built in 1971 to serve 7,000 students, just under half of UWG's current population of 13,733. The new facility houses 17 exam rooms, more than double what the former facility could house. Fifteen of those rooms are standard examination rooms, with one room dedicated to procedures and another specially equipped for sexual assault examinations and services.
Previously, the university's health care and education services were offered in different buildings across campus. With the new facility, students are able to receive care and learn about healthy lifestyles under one roof. In addition to medical care, the center offers pharmacy, patient advocacy and health education services.

"In Health Services, we are focused on advancing the emotional and physical wellbeing of students so they can eliminate barriers and find academic success," said Angie Bradley, UWG's director of Health Services. "We truly have a new home, and as we make it our new base of operations, it's our desire to not only meet the health needs of each student, but to improve the health of our overall campus and the community in which we work and live."

Plans for the new center were first unveiled in January 2018, less than a year before the facility opened its doors at the start of this year's spring semester. The university, through a partnership with Tanner that was the first of its kind approved by the University System of Georgia's Board of Regents, was able to leverage the health system's expertise and lower construction costs while keeping the cost of care affordable.


"When our team was looking at the idea presented by the university, I reflected on the success we've already had with our partnership, particularly with the Tanner Health System School of Nursing," said Loy Howard, president and CEO of Tanner Health System. "At Tanner, we know the most important aspect of a student is his or her health. They have to have their health if they're going to achieve excellence in whatever field they're pursuing. So it was natural for us to seek another way to partner with the university, and we look forward to finding even more ways in the future."

Daniel Jackson, president and CEO of the Carroll County Chamber of Commerce and Carroll Tomorrow, said the new Student Health Center hearkens back to other partnerships UWG has fostered in recent years, including the Education Collaborative and the GreenBelt Bike Share program.

"This is just another example that shows when our community's great assets come together, amazing things can happen," Jackson said. "When UWG, Tanner Health System and RA-LIN puts their heads together, what they can accomplish is far greater than anything they could do on their own, and that speaks to how powerful collaboration in our community can be."

For more information on UWG Health Services and to see the services it provides, visit www.westga.edu/health.
Photography by Steven Broome
Posted on