by Colton Campbell
A group of more than 100 students shared honest conversations with local law enforcement at the University of West Georgia recently during an event hosted by the UWG Police Department (UPD) and the Center for Diversity and Inclusion (CDI).
The Blue Mocktail Townhall, the fifth event of its kind, brought nearly two dozen police officers in UPD and the local Carrollton Police Department (CPD) face-to-face with UWG students, sharing open and courageous conversations about community policing.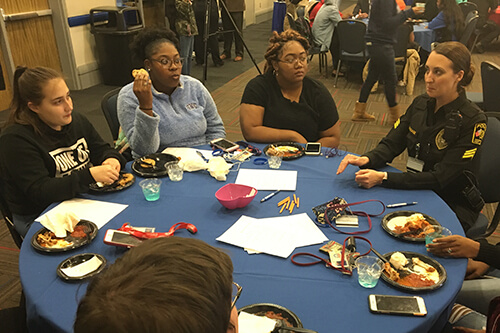 One student – Gigi Hina, a junior studying mass communications – said she left the event with a "sense of peace."

"In the era of social media, this event was a great reminder of the power of the face-to-face conversations to help create empathy, understanding and common ground for everyone," Hina said. "Additionally, in the current climate of controversies surrounding police interactions with the public, it was refreshing to hear from our local law enforcement. There is still a lot of work to be done – especially nationally – but I'm excited to see and be a part of the growth."
The goals for the event were for students to become familiar and have conversations with members of law enforcement, both at UWG and in the surrounding community, and also to improve student perceptions of police, with event organizers surveying students before and after the event to see how their perceptions changed.
"Having the chance to interact and have great conversations with our students in a safe, engaged environment is a great example of what Protect Our Pack is all about," said UPD Chief Tom Saccenti. "As a police department, we take ownership not only on the safety of the students, faculty, staff and visitors on our property, but also the residents in the community that surrounds us. That has led to a tremendous numerical decrease in crimes since Protect Our Pack launched two years ago."
Blue Mocktail Townhall events, held semiannually, are an outcome of UWG's Operation Protect Our Pack, a crime suppression partnership focused on ensuring a safer campus community that launched in 2017. Dr. Yves-Rose Porcena, UWG's chief diversity officer, said the Blue Mocktail events are crucial in building bridges between students and police.
"Our goal is to promote better interaction between students and police officers and to create an environment in which they really talk to each other," said Porcena. "Research has shown that connecting face-to-face in a non-threatening situation really makes a difference. You can learn someone's name and see yourself in them and their experiences. Students get to know more about the men and women who have dedicated their lives to protect them, and the police officers learn more about the students they're sworn to protect."
During the first half of the event, students interacted with members of law enforcement directly in small roundtable discussions. One officer from any of the local agencies was assigned to each table, answering questions and having conversations with students who also gathered around the table. The officers would rotate, allowing students to converse with officers from multiple agencies throughout the event.

In the event's second half, Saccenti and CPD Chief Joel Richards answered questions from the audience and discussed a hypothetical case study placed at each of the tables for discussion.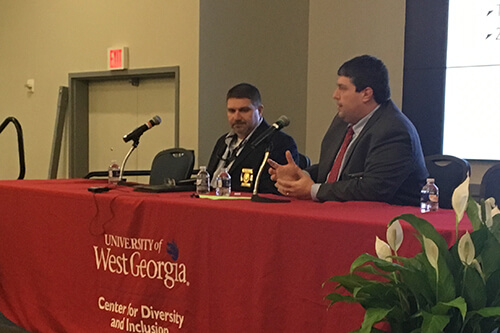 "I am so proud of the collaborative effort we've made across the board to make a difference in our community," Richards said. "Events like the Blue Mocktail Townhall are proof of that great effort, but our work isn't done. The energy and positivity toward ensuring a safe community is exciting to see, and I look forward to seeing more of the great results we've seen as this partnership continues."
Saccenti said the event is also valuable in connecting students with officers from different, non-university agencies like CPD.

"Those officers get to see a different side of our students they've never seen and ask them questions about what their interests are and why they chose to attend UWG and join our community," Saccenti said. "We want to build up the rapport and trust with our students across all agencies, and the Blue Mocktail Townhall events are great opportunities for us to do that."
Posted on