Many students have the opportunity to broaden their horizons when they study at a university, but only a lucky few have the chance to expand their worldview outside the borders of their home country.
But that's exactly what eight African-American Male Initiative (AAMI) students at the University West Georgia did over spring break when they traveled to Brazil.
Thanks to a collaborative effort among many campus partners, assistance from UWG alumni, staff and faculty – as well as training support from the Lumina Foundation, an independent, private foundation committed to making opportunities for learning beyond high school available to all – the AAMI Program had the opportunity to develop a study abroad program designed to expose rich and dynamic aspects of Brazilian history, culture and politics to their students.
The AAMI Study Abroad Brazil program was multilayered in its purpose, explained Dr. Morris Council, who led students on the trip.
"First as a university, we wanted to design a study abroad program that deliberately targeted black males on campus – an underrepresented group in study abroad," Council said. "Additionally, by going to Brazil, students acquired an understanding of how race, class, gender and geographic location intersect to impact educational and non-educational opportunities for Afro-Brazilians."
Council said studying abroad has the ability to expand worldviews; strengthen competitiveness in a global economy; and improve social and cultural capital, communication skills, academic skills, critical thinking, confidence, retention, motivation and overall student satisfaction.
"This is what our work is all about: providing tools to students on our campus will help them succeed in the classroom and in life," said Dr. Yves-Rose Porcena, UWG's chief diversity officer. "Being aware that many students cannot afford to study abroad, we had to be creative and developed the ultimate collaboration that included the Office of the President, the Division of University Advancement, the Office of Study Abroad, Dr. Council and UWG alumni so we could raise funds to send these eight young African-American males on this trip. It truly exemplifies UWG's value of collaboration."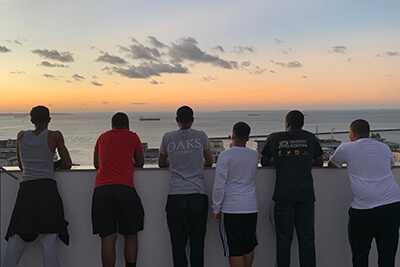 While some of the students may have only been expecting an exciting spring break experience – especially since this was their first time out of the country – they were quick to admit that after a week in Salvador and Morro de São Paulo, they'll never see the world through the same lens again.
"I truly believe this experience has helped me grow as a person, and it has changed the way I think in general," said management information systems and economics major Te'Quann Butler. "In particular, the trip really helped me appreciate the opportunity I was given to attend college and put myself and my future family in a great position. It helped me realize I not only affect the people around me but also the people who look like me – even if they are from a different country. My success influences their success."
While on their trip, the students had the opportunity to visit several secondary and post-secondary educators and students to discuss sociocultural experiences and equity in education. They were able to hear firsthand stories about the types of inequalities experienced by Afro-Brazilians.
"This trip has changed my idea of education," said chemistry and biology major Katravius Mitchell. "It showed me Americans are more privileged than we think we are. This trip has taught me to value every single thing I have: food, financial support, the opportunity of higher education and more. It has also inspired me to give back to the community and return to Brazil to do something for their lower-income communities."
Mitchell isn't the only one making big plans after returning from his trip. Christopher Foster, a graduate student majoring in college student affairs, has also started thinking globally.
"I was shocked to see that so many citizens of Brazil actually look like me," he said. "I learned that the experiences that black people have in the United States are the same as what black people in other countries experience. It has truly made me wonder how can we work together internationally to make life better for us."
All the students agreed that they learned things they never would have learned if they hadn't traveled outside the United States. And Council says he couldn't be happier with the outcome of the trip.
"In my observations, our group was able to articulate an understanding of the Afro-Brazilian experience, and more importantly evaluate the comparisons between their experiences in the United States and their peers abroad," he said. "Since arriving back on campus, it's obvious the group is closer and that they built strong relationships with each other as well as the international community while abroad."
Posted on